Criminal Defense: Miami White Collar Crimes Attorney
Award-Winning Defense in Miami—Call (305) 340-2197
The Miami criminal defense firm of Donet, McMillan & Trontz, P.A. (DMT) has represented clients for years in the South Florida area who have been charged in state and federal court with all types of white collar crimes.
Why Choose Our White Collar Crime Lawyers?
Our three leading attorneys bring 50+ years' shared experience, and they each:
Are former prosecutors, backed by trial-tested insights
Earned 10.0 out of 10.0 Superb Avvo Ratings
Have been selected for Super Lawyers® (includes top 5% of Florida lawyers)
Speak and read Spanish fluently
Offer 24/7 availability for phone calls and emails
White collar crimes can be prosecuted both on the state and federal level depending on which law enforcement agency conducted the investigation and whether state or federal statutes were violated. No matter where the charges are brought, defendants face significant incarceration and large fines. However serious your charges are, we have the resources and resolve to fight for your rights. Discover how we can help you!
Call (305) 340-2197 or Email Us Now to Start Your Defense
Work with Former Prosecutors to Fight Your Fraud Charges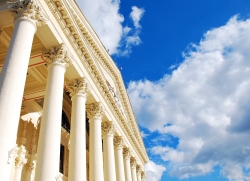 Our attorneys at DMT believe in a creative and proactive approach to defending clients charged with white collar crimes. Although every case is different, we use our skill and experience as former prosecutors to
go on the offensive
against both the state and federal governments. Every case is handled with the utmost effort and care to give our clients the best defense available. The tenacity and team effort provides results that are second to none.
Donet, McMillan & Trontz, P.A. is criminal defense firm that prepares every case as if it will result in a trial. There are two benefits to this approach. The first is that prosecutors know that DMT is trial active and
will not back down from any challenge
. Secondly, preparing every case for trial ensures that nothing will be missed in evaluating a case. Thorough preparation, you have a greater change of achieving dismissals or probation as opposed to jail or prison time.
We Can Defend Against White Collar Crimes that Include:
CALL A WHITE COLLAR CRIME LAWYER IN SOUTH FLORIDA
If you are under investigation for, or have been arrested and charged with a white collar crime
contact
the Miami criminal defense law firm of DMT.
An experienced criminal attorney is available every day of the year, 24 hours a day
to speak with you regarding your situation. Let us help protect your rights and defend your case.
You can reach us by email or by calling our office at (305) 340-2197 now.