About the Firm: David M. Trontz
(305) 318-1519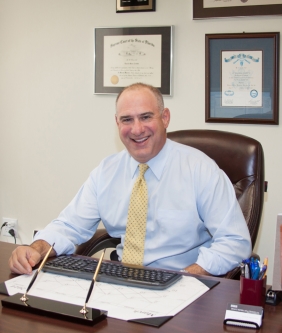 David Trontz was born in Suffern, New York and raised in Palm Beach County. He is a founding partner of Donet, McMillan & Trontz, P.A. He is married and has one child.
Mr. Trontz received a B.A. in Economics from Davidson College, North Carolina. Upon graduation from Davidson College, he was commissioned as an Infantry Lieutenant in the United States Army. He received his J.D. from St. Thomas University in 1992, graduating in the top 15% of his class.
Upon graduation from St. Thomas University, Mr. Trontz entered the United States Army Judge Advocate General (JAG) Corps. He attended the Judge Advocate Basic Course in Charlottesville, Virginia where he studied the intricacies of the Federal/Military Systems. He began his military career serving as a Captain in the 82nd Airborne Division located at Fort Bragg, North Carolina. While at Fort Bragg, Mr. Trontz prosecuted over twenty General Courts-Martials. During this time, he also became Jump Master qualified. After completing his tour of duty at Fort Bragg, Mr. Trontz was assigned the role of senior trial counsel with the 2nd Infantry Division in South Korea. In Korea, Mr. Trontz continued his career as a military prosecutor. After successfully prosecuting dozens of Courts-Martials, Mr. Trontz was promoted to the 3rd Infantry Division located at Fort Stewart, Georgia. He was assigned to the General Staff and placed in charge of the Operational Law section. While he was with the 3rd Infantry Division, Mr. Trontz served on deployments to Kuwait and Egypt. Upon successfully completing his military commitment, Mr. Trontz had received the Meritorious Service Medal, two Army Commendation Medals, two Army Achievement Medals, the Overseas Medal, the Southwest Asia Service Medal, the Army Service Ribbon, Senior Jump Wings, and Malaysian Jump Wings.
Online Profiles:
After leaving the army, Mr. Trontz continued his career as a prosecutor in the Miami-Dade County State Attorney's Office, the third largest prosecutors' office in the United States. Within just three years there, Mr. Trontz was promoted to the position of Division Chief. In addition to prosecuting hundreds of
violent crimes
, Mr. Trontz was also responsible for the training and supervision of other prosecutors. Mr. Trontz prosecuted numerous homicides, home invasions,
armed robberies
,
drug trafficking
cases, as well as complicated
white-collar crimes
.
After leaving the State Attorney's Office, Mr. Trontz was hired as a trial attorney by Thornton, Davis & Fein, P.A. As an Associate with Thornton, Davis & Fein, P.A., Mr. Trontz represented clients such as Good Year Tire & Rubber Company, Cooper Tire, Royal & SunAlliance Insurance, Bank of America and Lloyds of London. During his career, Mr. Trontz handled numerous high profile, multimillion dollar cases, among them tire tread separation and SUV rollover cases.
Mr. Trontz's area of acumen includes all aspects of
criminal law
, including, but not limited to drug possession, drug trafficking, insurance fraud, mortgage fraud, Medicare fraud, domestic violence, as well as,
DUI defense law
,
military law
,
extraditions
and post-conviction relief, such as motions to vacate and motions to mitigate. Mr. Trontz has been practicing criminal law since he graduated law school. His criminal experience began as prosecutor and defense lawyer in the U.S. Army. Since leaving the U.S. Army, Mr. Trontz has excelled in Miami as a criminal defense lawyer. Since the inception of Donet, McMillan & Trontz, Mr. Trontz has successfully defended hundreds of clients charged with criminal offenses in state, federal and military courts. His military background has allowed him to defend members of the U.S. Army, U.S. Air Force, U.S. Navy and U.S. Coastguard from Miami, Florida to Ft. Lewis Washington. Although the office is located in Miami, Florida, Mr. Trontz defends criminal and other cases in the South Florida area and across the United States.
Fellow criminal attorneys in the State of Florida consistently choose Mr. Trontz for Florida Trend's Florida Legal Elite. Only the top 2% of lawyers practicing in Florida have been distinguished with this honor.
Mr. Trontz is an active member of The Florida Bar, The Florida association of Criminal Defense Lawyers, The American Bar Association, The Dade County Bar Association, The Cuban American Bar Association, Dade County Defense Bar Association, and The League of Prosecutors.