Post Conviction Relief
Post-Conviction Relief and Appellate Lawyers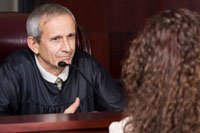 Each Miami criminal lawyer at Donet, McMillan & Trontz, P.A. (DMT) excels not only in representing individuals charged with a crime, but also representing clients after the case is closed. Once a judge has convicted a defendant, either by plea or trial, it has become increasingly difficult to vacate or overturn a criminal conviction. However, if you have entered a plea or been found guilty by a judge or jury in the South Florida area, all hope is not lost.
At the firm of DMT, we have noticed that more and more individuals are facing deportation or are ineligible to obtain their residency or citizenship for a plea that was entered into years ago for a fairly minor offense. The Miami post-conviction lawyer at DMT has been very successful in filing motions to have convictions and sentences set aside on the client's behalf.
It is imperative to
contact the law firm of DMT
immediately, upon discovering your problem. There are time restrictions when filing motions for post-conviction relief. Do not let yourself become time-barred. If a loved one or someone you know is being deported or having difficulty becoming a resident or citizen, call the criminal defense firm of DMT immediately at (305) 340-2197.
Motions for Post-Conviction Relief
Motion to Vacate a Conviction
Ineffective Assistance of Counsel
If a criminal defense lawyer failed to defend a case within the standards required under Florida law, the judge can vacate your judgment and sentence. Examples of ineffective assistance of counsel include: failing to call essential witnesses, failing to properly cross-examine witnesses and failing to make significant objections.
Affirmative misadvise by counsel
If a criminal defense attorney affirmatively told a defendant that a particular plea would not get him/her deported, would not affect an individual's ability to obtain residency or citizenship, or would not cause a defendant to lose certain types of professional licenses, the judge can vacate your judgment and sentence.
Other Legal Grounds
The plea was not voluntarily entered into by a defendant.
The judge failed to give appropriate warnings, regarding immigration consequences. This post-conviction motion must be filed within two years of taking the plea.
Motion to Vacate Sentences
There are several ways to vacate a sentence. If a defendant's sentence exceeded the guidelines promulgated by the Florida legislation in October, 1998, the judge will order a reduction in a sentence. If the judge erroneously sentenced an individual as a habitual offender, habitual violent offender, or violent career criminal (Gort), the sentence will be vacated by the court and the defendant will be re-sentenced, upon a properly filed motion by the law firm of DMT.
Motions to Modify or Mitigate Sentences
A person convicted of an offense and sentenced to prison, jail, community control or probation may file a motion to mitigate or reduce the term of imprisonment, community control or probation for a variety of reasons. Examples of reasons to mitigate a sentence include the health of the defendant, the health of a defendant's family members or the inability to financially support one's family members. The Miami criminal lawyers at DMT have been extremely successful in getting client's sentences reduced.
Writs of Prohibition
The trial court made a critical legal error prior to trial or the entry of a plea. For example, the judge denied a motion to discharge a case for a speedy trial violation and instead illegally extended the speedy trial window. The criminal defense team at DMT will file a writ of prohibition on your behalf. An appellate judge can order the trial court judge to correctly follow the law in a defendant's favor.
Direct Appeals
The trial made a critical legal error during trial. For example, the judge disallowed a legal challenge to the defense attorney's request to dismiss a juror during jury selection or admitted or failed to admit critical evidence in a case. If a significant error is found, the appellate court can reverse your case and send you back for a new trial. The criminal attorneys at DMT will file an appeal on your behalf.
To speak with a skilled post-conviction relief or appellate lawyer at DMT, or if you have questions regarding filing one of the above listed motions that need to be answered, please
contact DMT
to schedule your free consultation. You can call our office at (305) 340-2197 or reach us by completing a
free case evaluation
form. We are available every day of the year, 24 hours a day.