Criminal Defense: Miami Military Defense Lawyer
DONET, MCMILLAN, & TRONTZ, P.A.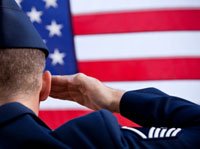 The legal defense team at Donet, McMillan, & Trontz, P.A. (DMT) provides exceptional representation in all areas of military law in the Miami, the South Florida area, as well as throughout the entire United States. Our firm has become the pre-eminent Miami military defense firm in representing service members in both military and state criminal matters. Always keep in mind, if you have been charged with a civilian criminal charge, it is imperative to hire a Miami military lawyer at Donet, McMillan, & Trontz, P.A. to defend the case. Any conviction, withhold of adjudication or entry into a pre-trial diversion program, will be considered an admission of guilt by your commanders and the military. If you are facing civilian charges, consult with a military attorney at DMT.
David Trontz, one of the firm's founding partners, heads the military law section at DMT. He served five years on active duty as a JAG officer in the United States Army. His tours of duty include three years with the 82nd Airborne Division, one year with the 2nd Infantry Division in South Korea and one year of service with the 3rd Infantry Division, with tours of duty in Egypt and Kuwait. While serving on active duty, Mr. Trontz attained the rank of Captain, while performing his duties as a prosecutor, defense attorney, administrative attorney and as the legal adviser to the Commanding General of the 3rd Infantry Division.
The military law section at DMT is dedicated to the representation of United States military personnel, not only in Miami, Florida, but throughout the United States, before military trial and appellate courts, administrative boards and all other military tribunals. The military law practice at DMT specializes in defending all trials by courts-martial, appeals to the Courts of Criminal Appeals and the Court for Appeals for the Armed Forces, defending Article 15's (non-judicial punishment), defending clients at administrative separation and reduction boards, appeals of evaluation, fitness reports, medical boards and professional credential review boards (physicians and aviators, etc.) and applications for correction of military records.
As a civilian and former military lawyer, Mr. Trontz can and will represent service members throughout the country. He has represented soldiers and sailors at the Miami Coast Guard Installation, Homestead Air Force Base, Ft. Bragg, North Carolina, Ft. Stewart, Georgia, Mac Dill Air Force Base, Tampa, Ft. Lewis, Washington, Ft. Campbell, Kentucky, Camp Le Jeune, North Carolina and Hunter Army Airfield, Georgia. He has represented Army, Navy, Air Force and Coast Guard personnel, as well as Marines.
Military Investigations
The best defense to a military case is knowing and protecting your rights. If you become involved in a military investigation, it is imperative that you seek advice from a criminal defense lawyer with military experience. If you are suspected of committing an offense, consult with legal counsel, prior to speaking with your chain of command or military investigators. Remember, Article 31, of the Uniform Code of Military Justice protects all military members suspected of committing an offense. Your rights are as follows:
Right to know the offense of which you are suspected
Right to remain silent
To be advised that anything that you say can be used against you
Right to an attorney
Right to civilian counsel
Courts-Martial
Any prosecution by a service member under the UCMJ is serious business. Convictions will affect your military career and your life after you complete your military service. Any conviction in the military is considered a criminal conviction by civilian authorities. It is imperative to begin the defense of a court-martial early on by locating key witnesses, taking sworn statements and obtaining key documents. Remember, a Miami military lawyer can work in conjunction with your military defense lawyer to ensure the best possible results.
Article 15 (Non-Judicial Punishment)
Article 15's are less serious than a courts-martial, however should be taken seriously nonetheless. Article 15's can and will be used to administratively separate you from the military, which will significantly impact the type of discharge you receive. If you accept an Article 15, you will certainly lose rank and pay. Additionally, Article 15's become a part of your permanent military record and will have a negative impact on your ability to receive promotions or other favorable actions. The Miami military lawyer at Donet, McMillan, & Trontz, P.A. has appeared before many commanders in defense of charges brought by way of an Article 15.
Administrative Separations
Like a courts-martial, the results of an administrative separation can impact you for the rest of your life. Discharges for unsuitability or misconduct can negatively impact your rights as a veteran and even more importantly have a negative impact on you in civilian life. A general, or other than honorable discharge can prevent you from furthering your education or inhibit your ability to get a job. If you receive a notice of an administrative separation, contact our defense firm to protect your rights and your future.
To speak with a skilled military lawyer at DMT, or if you have questions regarding your military case that need to be answered, please contact Donet, McMillan, & Trontz, P.A. to schedule your free consultation. You can call our office at (305) 340-2197 or reach us by completing the form on our contact page or by sending an e-mail. We are available every day of the year, 24 hours a day.