About The Firm: Attorney Recognition
TRUSTED LEGAL REPRESENTATION IN MIAMI
Our criminal defense lawyers at Donet, McMillan & Trontz, P.A. have received countless awards and accolades for the results we've receive defending clients in Miami. These awards demonstrate to our clients our level of professionalism, dedication, and experience. With
over 50 years of combined experience
in the field of criminal law, we are well-positioned to provide the aggressive defense in state or federal court.
It is important to note that the attorneys at our firm are trial lawyers.
Trial lawyers can:
Review the case
Properly prepare the case for trial during the discovery process
Take a case to trial if necessary
Secure an acquittal
Peer-Review Rated by Martindale Hubbell®

David M. Trontz has achieved the distinguished
AV® Peer Review Rating from Martindale-Hubbell®.
This prestigious award shows that he has reached a respected height of professional excellence. Mr. Trontz has practiced criminal law in Miami for many years and has been recognized for the highest level of skill and integrity.
To receive this rating, lawyers must be admitted to the bar for 10 years. To be rated AV® Rated, a lawyer must demonstrate:
Ethical practice, i.e. professional conduct relating to reliability and diligence in the representation of clients
Legal capability, which is determined by considering an attorney's legal knowledge, analytical capabilities, judgment, communication ability, and legal experience
Florida Trend, Florida Legal Elite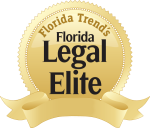 Donet, McMillan & Trontz, P.A. and David M. Trontz, have consistently led peers as Florida's legal leaders in the area of South Florida Criminal Defense Lawyers.
Mr. Trontz is among a very select group of lawyers that comprise the top 2% of lawyers practicing in Florida.
Mr. Trontz has achieved this honored status in the area of criminal defense. Mr. Donet was recognized for being in the top 2% of Florida's up-&-coming criminal defense lawyers.
Florida Super ®
Super Lawyers ®
utilizes a rigorous evaluation process. Candidates are nominated by their peers and undergo third-party research to determine who is selected to be members of this rating service. The objective is to create a comprehensive list of attorneys throughout the country that can be used by other lawyers and potential clients alike.

Selection for inclusion in the list of SuperLawyers® requires a three-step evaluation process:
Creation of the candidate pool
Evaluation of lawyers in the candidate pool
Peer evaluation by practice area
We are proud to say thatour lawyers at DMT have been selected for inclusion in the list of Florida Super Lawyers ®. This prestigious recognition is only provided to 5% of Florida criminal defense attorneys. This high honor is a testament to our attorneys' work ethic and the time, attention, and detail that we devote to each and every client. The selection process has been approved by courts and bar associations across the United States.