Federal Crimes: Arms Trafficking Charges in Florida
Work with Experienced Miami Federal Criminal Lawyers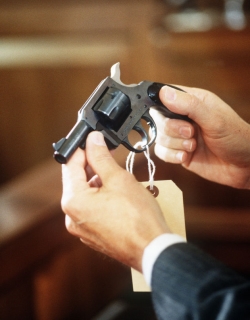 Arms trafficking, also referred to as gun running, is defined as the illegal smuggling or trafficking of weapons, munitions or ammunition between different countries or states. Illegal arms trafficking is precluded by both federal and international law. The Miami criminal lawyers at
Donet, McMillan & Trontz, P.A.
focus on defending all types of cases in federal court in addition to arms trafficking offenses.
The federal government is concerned with arms trafficking offenders as their lucrative business causes an escalation of violence along our borders. A major hot spot for arms trafficking has become Mexico. The growing number and increased power of the Mexican drug trafficking organizations have led to an increase in arms trafficking and violent crimes over the past decade. Mexican officials are blaming the increased violence on arms trafficking and the ongoing drug trafficking problem in their country.
Who investigates arms trafficking?
ATF and ICE are the two primary federal agencies that investigate and prosecute illegal arms trafficking violations. As part of their duties, both agencies are instructed to regulate arms dealers to ensure they comply with all applicable federal statutes and regulations. The ATF is also responsible for tracking both U.S. and foreign firearms on behalf of federal, state and local law enforcement . With that being said, AFT and ICE have agreed that they need to better at coordinating their expertise and resources to quell the problem of illegal arms trafficking. The agencies have put forth an increased effort, including additional resources, equipment and infrastructure to prevent cross border arms trafficking. The United States is also providing assistance to foreign countries to help with the firearm identification, as well as, training regarding arms trafficking investigations. Anyone involved in an arms trafficking organization is facing prison time, large fines and seizure and forfeiture of the weapons.
Gun Control Act
The Gun Control Act of 1968 (GCA) was created by the federal legislature to assist state and local governments, as well as, local law enforcement officials in enforcing their firearm laws. No subsection of the GCA specifically addresses arms trafficking. The federal government generally uses two subsections of the GCA to prosecute arms traffickers.
The first subsection addresses the offense of owning, operating, or engaging in the business of dealing in firearms without a license.
The second subsection that is often used is traveling to another state to obtain a firearm with the intent to illegally purchase a firearm.
Even if these two subsections are not applicable, there are other subsections that deal with serial numbers and presenting false identification to obtain firearms for which an individual can be charged.
CONTACT DONET, MCMILLAN & TRONTZ, P.A. FOR A FREE CONSULTATION!
Anyone being investigated or prosecuted by federal law enforcement relating to arms trafficking, illegal arms sales, or arms smuggling should contact an experienced federal criminal attorney to discuss the strengths and weaknesses of the case. The majority of illegal arms trafficking cases can be linked to foreign countries such as Mexico, Columbia and other South and Central American countries. Simply put, the federal government is focusing on drug trafficking organizations looking to protect their interests with firearms, weapons and munitions developed and manufactured in the United States.
To speak with an experienced
Miami federal criminal attorney
at DMT about your arms trafficking case, or if you have questions regarding a matter involving a federal criminal investigation, please contact DMT to schedule a free consultation. You can call our office at (305) 340-2197 or reach us by completing the form on our
contact page
or by sending an
e-mail
.